Extension > Garden > Diagnose a problem > What insect is this? > Garden Pests > Flies, moths, wasps,and other insects with obvious wings - Under 1/4 inch long > Apple maggot
Apple maggot
Rhagoletis pomonella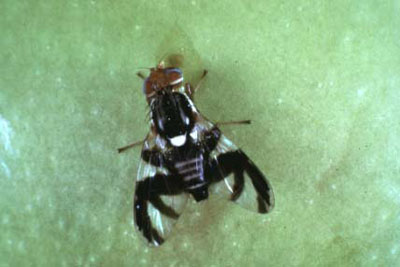 University of Minnesota, Department of Entomology
Description: 1/4 inch long. Black body with a white spot in the center. Three or found thin white lines on the back of the abdomen. Clear wings with a characteristic black pattern.
Where/When: Primarily feeds on apples and large crab apples. Appears in early July and is active until September. Peak activity occurs from late July through early August.
Significance: Causes distorted fruits due to oviposition by adult flies. Pulp breaks down, discolors, and starts to rot as a result of maggots tunneling through the flesh.
More information on Apple maggot
Did this tool help you identify the insect? Tell us.