Extension > Garden > Diagnose a problem > What insect is this? > Insects found indoors > Beetles, bugs, ants, and other insects without obvious wings - Under 1/4 inch long > Powderpost beetle
Powderpost beetle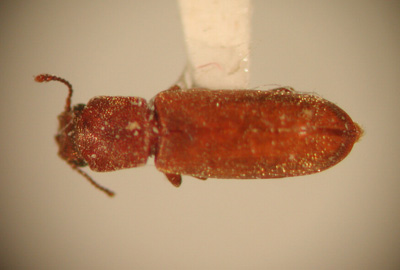 Jeff Hahn, University of Minnesota Extension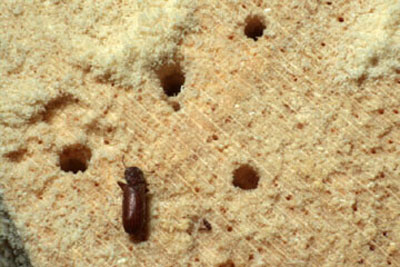 Jeff Hahn, University of Minnesota Extension
Description: 1/4 inch long. (It is often challenging to recognize small-sized beetles from a picture. Because different insects may be treated differently, be sure the insect is correctly identified before attempting control.)
Where/When: Is associated with wood products. Also look for small, round holes and fine, powder-like sawdust. Can be found indoors anytime during the year.
Significance: Can significantly damage small-sized wood products. Larger sized items can be marred by exit holes.
Management:
Most powderpost beetles do not cause structural damage, but they can quickly destroy smaller items like picture frames and tool handles.
To manage infestations, protect wood surfaces with varnish, paint or other sealants. While this does not kill insects in the wood, it does prevent reinfestation.
Insecticides can kill emerging adult beetles and prevent reinfestation, but it will not kill most insects already present in the wood.
All insecticides effective for control of powderpost beetles can be purchased and applied only by licensed applicators.
More information on Powderpost beetles
Did this tool help you identify the insect? Tell us.