Extension > Agriculture > Nutrient Management > Crop Nutrient Calculator App for iPhone or Android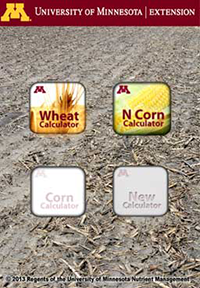 Crop Nutrient Calculator App for iPhone or Android
Nutrient management research focuses on helping farmers and ag professionals optimize crop production using appropriate nutrient inputs while minimizing effects on the environment.
Use these calculators to determine the nutrients needed in your soil to grow a specific crop.
What's in the app?

Wheat Calculator

The Wheat Calculator tool uses your crop's past performance and soil tests to improve your next crop.

Add your yield goals, required information about your soil's organic matter, nitrogen and N Credits, and any soil test results you have completed. Then view either broadcast or drill fertilizer recommendations for your crop.

In Season Corn N Calculator

Use the simple, In Season Corn N Calculator in early to mid-June to determine if supplemental, or extra, N is needed.

Answer four questions about your current crop and view your N recommendations.
Other Recommended Resources