Extension > Environment > FWCE > Citizen Science > Minnesota Bee Atlas > Lead your own bee hunt
Lead your own bee hunt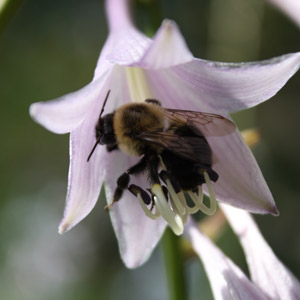 Copyright © Britt Forsberg
Do you work at a nature center or museum? Are you a teacher who would like to teach your students about native pollinators while participating in authentic scientific research? Would you like to work with your friends and neighbors to contribute data that will help scientists around the world study the populations and geographic ranges of native bees? By organizing your own Bee Hunt and sharing your results with the Minnesota Bee Atlas, you can play an important role in documenting the presence of native bees in Minnesota.
A Bee Hunt can take place anywhere that bees are likely to be found. This could be at a nature center, local park, or other area with an abundance of floral resources to support bee populations. You may be interested in planning an event to celebrate National Pollinator Week (June 19-25, 2017), but a Bee Hunt could take place anytime between June and August, when most bees are active.
The two options for collecting data are to make a stationary count and a traveling count.
For a stationary count:
Choose a small area with bee-friendly flowers blooming, and watch for visiting bees for ten minutes.
Take a picture of any bee you see.
Submit these photos to the Minnesota Bee Atlas project at iNaturalist. Be sure to include the location and date.
For a traveling count:
Plan a walking route and print a map of the area you will be observing.
Walk it slowly, looking for bees near the path.
Take photos of the bees you see and record the locations where you stopped to take photos.
Submit the photos to the Minnesota Bee Atlas project at iNaturalist. Refer back to your data sheet for the location of each photo.
---

Funding for this project was provided by the Minnesota Environment and Natural Resources Trust Fund as recommended by the Legislative-Citizen Commission on Minnesota Resources (LCCMR).