Extension > Environment > FWCE > Citizen Science > Driven to Discover
Driven to Discover
The Driven to Discover citizen science program engages youth in authentic scientific inquiry by capitalizing on the rich learning opportunities provided by citizen science.
On this page
What is Driven to Discover?
Driven to Discover uses citizen science as a springboard for engaging youth in the full process of authentic research. We provide tools, resources, and curricula for youth group leaders and program managers to plan and carry out citizen science-based research with youth.
Initially funded by the National Science Foundation, the Driven to Discover: Enabling authentic inquiry through citizen science project has two variations. One series is designed for middle and high school classroom settings while the other series is designed for afterschool and summer youth programs. Each edition in each series is built around nationally-known citizen science programs, though the project can easily be adapted for use with other citizen science projects.
Young scientists are immersed in the ecology of their study organism as they learn to collect and submit data to a national citizen science project. While they are collecting data, they keep a journal of their own observations and questions. These personal observations then provide the basis for their own independent research. As they participate in Driven to Discover, youth discover the wonders of science in the real world, beyond a textbook. They learn about the natural world and begin to think of themselves as scientists.
Find out how you can get started with Driven to Discover in your classroom or youth program.
The Driven to Discover process
Participants in Driven to Discover citizen science clubs experience a three-step process that builds on observation and data collection to prepare youth participants to do their own independent investigations. First, they develop a base of skills and knowledge that will allow them to recognize the organisms they're studying, tuning their observational skills. Next, they put that base to work when they learn and implement the specific protocols of the citizen science project. These experiences provide opportunities to observe nature closely, not just seeing organisms, but quantifying and recording what they see. The first two steps trigger the youth participants' natural curiosity and provide the skills and motivation needed to support an independent research project.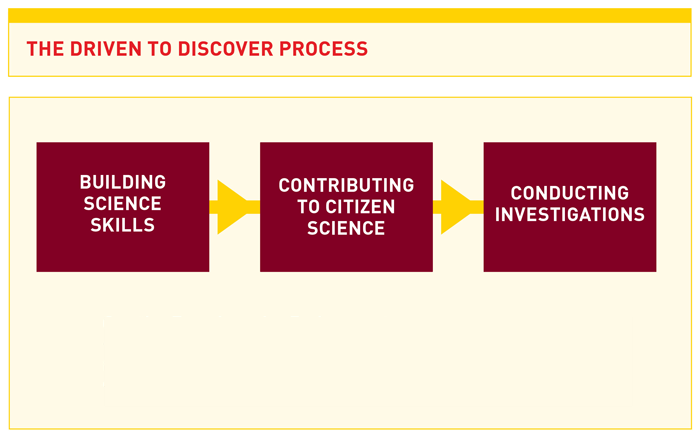 What are people saying about Driven to Discover?
"Driven to Discover met its goals. The program helped youth learn about science, increased their understanding of citizen science, strengthened their science identities, and supported their ongoing development of science inquiry skills." - Garibay Group, external evaluators.
"I feel the D2D project has given me the tools I need to be more confident in engaging youth in science inquiry. D2D has helped me to see how all the steps work together and the need to incorporate each one for a more holistic experience." - Adult leader
"This is the best program I've ever participated in as a professional environmental educator and a community center administrator. This is truly a special program." - Adult leader
"Happy to be outdoors observing the natural world with youth. Enjoy the organization of lessons and goals of the curricula. It feels like it's set up to succeed." - Adult leader
"It is gratifying as an educator to be able to teach skills and concepts to kids and then have them be in the position to apply that learning authentically in a manner in which they are totally invested." - Adult leader
Visit our You Tube playlist to see Driven to Discover in action!
---
The University of Minnesota Extension Driven to Discover curriculum is funded in part by a grant from the National Science Foundation.
Driven To Discover is proud to collaborate with: