Extension > Garden > Diagnose a problem > What insect is this? > Garden Pests > Beetles, bugs, ants, and other insects without obvious wings - Under 1/4 inch long > Brown ambrosia aphid
Brown ambrosia aphid
Uroleucon ambrosiae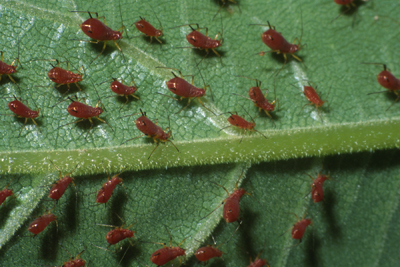 Jeff Hahn, University of Minnesota Extension
Jeff Hahn, University of Minnesota Extension
Description: Up to 1/8 inch long. Pear-shaped, dark red to brown color. They have long antennae and two cornicles ("tail pipes") on the rear of their abdomen (Identification of aphid species can be challenging; different species can be similarly colored).
Where/When:Feeds on petals and leaves of a variety of flowers including black-eyed Susan (Rudbeckia), coneflower, and sunflower. Active spring and summer; it is particularly noticeable from mid to late summer.
Significance:Generally does not cause damage. Could cause discoloration of flower petals and leaves, resulting in wilting if populations are high.
More information on Aphid species
Did this tool help you identify the insect? Tell us.