Extension > Garden > Diagnose a problem > What insect is this? > Garden Pests > Beetles, bugs, ants, and other insects without obvious wings - Under 1/4 inch long > Cabbage aphid
Cabbage aphid
Brevicoryne brassicae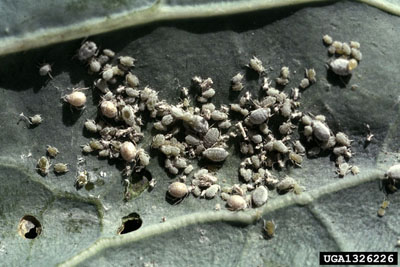 Whitney Cranshaw, CSU, Bugwood.org
Whitney Cranshaw, CSU, Bugwood.org
Size: Up to 1/12 inch long.
Description: Pear-shaped. They are green to gray in color with a white, waxy coating. They have long antennae and two cornicles ("tail pipes") on the rear of their abdomen (Identification of aphid species can be challenging; different species can be similarly colored).
Where/When: Feeds on broccoli, cabbage, Brussels sprout, cauliflower, canola, and other plants in the mustard family (Brassicaceae). Aphids are active from June through October.
Significance: Low to moderate numbers cause little or no injury. Larger numbers can slow growth and distort heads and leaves.
More information on Cabbage aphid
Did this tool help you identify the insect? Tell us.