Extension > Garden > Diagnose a problem > What insect is this? > Garden Pests > Beetles, bugs, ants, and other insects without obvious wings - Under 1/4 inch long > Fourlined plant bug
Fourlined plant bug
Poecilocapsus lineatus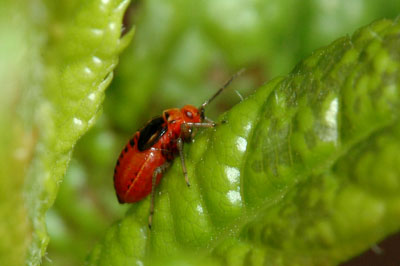 Jeff Hahn, University of Minnesota Extension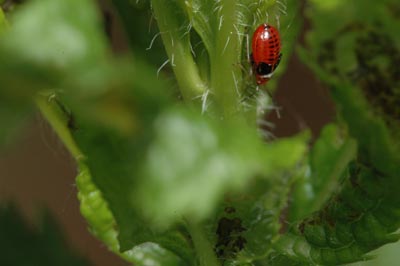 Jeff Hahn, University of Minnesota Extension
Description: 1/16 - 3/8 inch long. Bright red to orange head and abdomen with black wing pads and black dots on their abdomen.
Where/When: Nymphs and adults feed on herbaceous perennials, such as chrysanthemum, wild mint, catnip, peppermint, spearmint, oregano, Chinese lantern, liatris, basil, and Shasta daisy. They may feed on fruits, especially currant and gooseberry, as well as woody ornamentals like azalea, dogwood, forsythia, viburnum, amur maple, and sumac. Flowering annuals, like marigolds, may also be fed upon. Active from mid to late May until early July.
Significance: Usually only causes cosmetic damage although large numbers may be injurious to herbaceous plants.
More information on Fourlined plant bug
Did this tool help you identify the insect? Tell us.