Extension > Garden > Diagnose a problem > What insect is this? > Garden Pests > Beetles, bugs, ants, and other insects without obvious wings - Under 1/4 inch long > Northern corn rootworm
Northern corn rootworm
Diabrotica barberi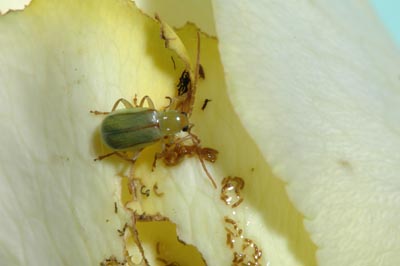 Jeff Hahn, University of Minnesota Extension
Description: 1/6 - 1/4 inch long.
Yellowish-green, lacking conspicuous black stripes or other markings.
Where/When: Feeds on corn silk and flower blossoms of a variety of flowers including roses, dahlia, sunflowers and similar plants. Northern corn rootworms are present August to September.
Significance: When feeding is severe and the corn silk is eaten before it is pollinated, the ear will not develop properly. They chew ragged holes in flower blossoms and can make them unsightly. The severity ranges from slight to severe.
More information on Northern corn rootworm
Did this tool help you identify the insect? Tell us.