Extension > Garden > Diagnose a problem > What insect is this? > Garden Pests > Beetles, bugs, ants, and other insects without obvious wings - Under 1/4 inch long > Strawberry bud weevil
Strawberry bud weevil (clipper weevil)
Anthonomus signatus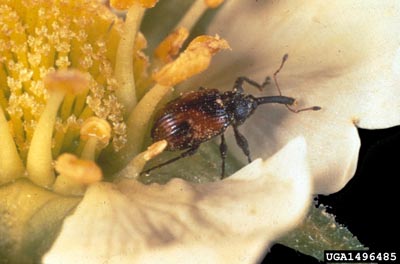 University of Georgia, Plant Pathology Archive
Description: 1/10 inch long. Oval shaped, reddish-brown with an elongated black snout.
Where/When: Damage strawberry, blackberry, and related plants by feeding on buds and by stem clipping below the bud. Adults are present during spring.
Significance: Decrease yield and damaged plants with buds hanging down or clipped off.
More information on Strawberry bud weevil
Did this tool help you identify the insect? Tell us.