Extension > Garden > Diagnose a problem > What insect is this? > Garden Pests > Beetles, bugs, ants, and other insects without obvious wings - Under 1/4 inch long > Squash bug
Squash bug (young nymph)
Anasa tristis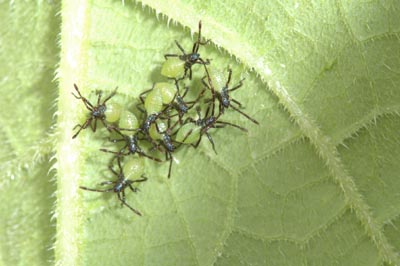 Jeff Hahn, University of Minnesota Extension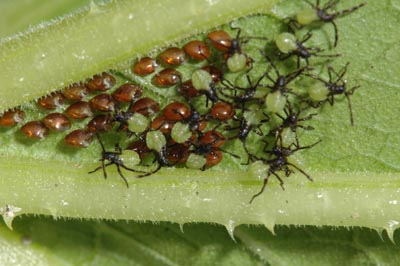 Jeff Hahn, University of Minnesota Extension
Size: 1/10 - 5/8 inch long.
Description: Light green to light gray body with black legs and black head. Often found clustered in groups.
Where/When: Feeds on squash, pumpkins, and other cucurbits, like cucumbers and melons. Adults appear in May and all life stages are present throughout the growing season.
Significance: Feeding can cause yellowing and wilting. Young plants are more susceptible to injury than older plants.
More information on Squash bug
Did this tool help you identify the insect? Tell us.