Extension > Garden > Diagnose a problem > What insect is this? > Garden Pests > Beetles, bugs, ants, and other insects without obvious wings - Under 1/4 inch long > Spotted cucumber beetle
Spotted cucumber beetle
Diabrotica undecimpunctata howardi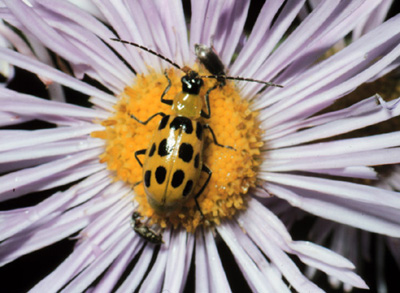 University of Minnesota
Description: 1/5 inch long.Yellow with 12 black spots on its wings.
Where/When: Feeds primarily on cucumbers, squash melons, and pumpkins. Active from late June through August.
Significance: Large populations are rarely present. Is a vector of bacterial wilt.
More information on Spotted cucumber beetle
Did this tool help you identify the insect? Tell us.