Extension > Garden > Diagnose a problem > What insect is this? > Garden Pests > Beetles, bugs, ants, and other insects without obvious wings - Under 1/4 inch long > Striped cucumber beetle
Striped cucumber beetle
Acalymma vittatum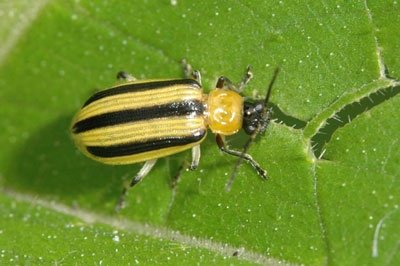 Jeff Hahn, University of Minnesota Extension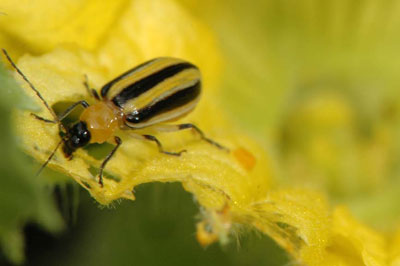 Jeff Hahn, University of Minnesota Extension
Description: 1/5 inch long. Yellow with three black stripes running down the wing covers.
Where/When: Feeds primarily on cucumbers, squash, melons, and pumpkins. Active from May through August.
Significance: May kill or retard growth of seedlings, if numbers are severe. Vector of bacterial wilt in curcurbits and of cucumber mosaic virus.
More information on Striped cucumber beetle
Did this tool help you identify the insect? Tell us.