Extension > Garden > Diagnose a problem > What insect is this? > Garden Pests > Beetles, bugs, ants, and other insects without obvious wings - Under 1/4 inch long > Tarnished plant bug
Tarnished plant bug (nymph)
Lygus lineolaris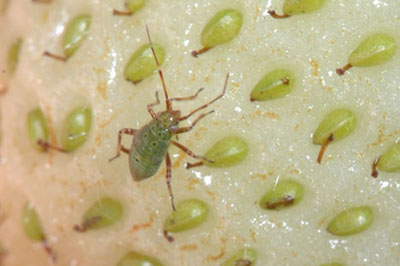 Jeff Hahn, University of Minnesota Extension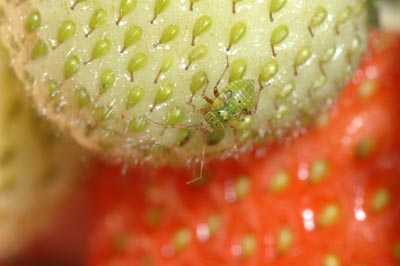 Jeff Hahn, University of Minnesota Extension
Size: 1/16 - 1/4 inch long.
Description: Oval-shaped and yellowish green. Black spots may be present on its abdomen.
Where/When: Feeds on strawberry, apple, potato, and other fruits and vegetables, as well as ornamental plants. Active from April through September.
Significance: Feeding may cause abnormal growth of the fruit (catfacing) or plant and death of young flowers, seedlings, or fruits.
More information on Tarnished plant bug
Did this tool help you identify the insect? Tell us.