Extension > Garden > Diagnose a problem > What insect is this? > Insects found indoors > Beetles, bugs, ants, and other insects without obvious wings - Larger than 1/4 up to 1/2 inch long > Bat tick
Bat tick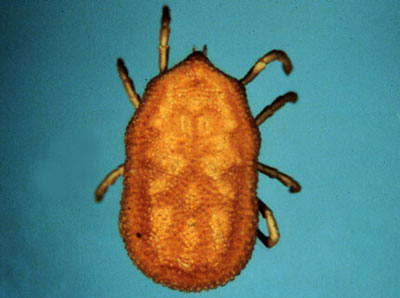 Jeff Hahn, University of Minnesota Extension
Description: Up to 1/4 inch long (unengorged adults; immatures are smaller).
Where/When: Is found in homes and other buildings where bats roost. In absence of normal hosts, may wander into other areas of buildings. Can be found anytime during the year.
Significance: May occasionally bite humans when bats are not available. It is unable to reproduce on human blood. Bat ticks are not a known vector of disease in Minnesota.
Did this tool help you identify the insect? Tell us.