Extension > Garden > Diagnose a problem > What insect is this? > Insects found indoors > Winged Insects - 1/4 inch up to 1/2 inch > Meal moth
Meal moth
Pyralis farinalis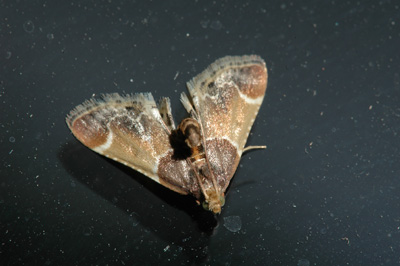 Jeff Hahn, University of Minnesota Extension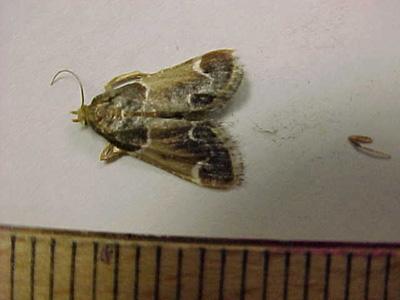 Unknown
Description: 1/4 - 3/8 inch long; 3/4 - 1 inch. Dark reddish brown band across the top and bottom of the wings; also olive or yellowish green band, outlined by wavy white lines in the center; abdomen is typically curved up at a 90o angle when at rest.
Where/When: Meal moths are found indoors, especially in kitchens and other rooms where dried food products, such as cereal, pasta, dry pet food, bird seed, grain-based products, dried fruits, chocolate, nuts, and spices are found. These moths can be present all year.
Significance: Adults don't harm people or property. However larvae consume and contaminate dried food products.
Did this tool help you identify the insect? Tell us.