Extension > Garden > Diagnose a problem > What insect is this? > Trees and shrubs > Flies, moths, wasps,and other insects with obvious wings - 3/4 inch and longer > Elm sawfly
Elm sawfly
Cimbex americana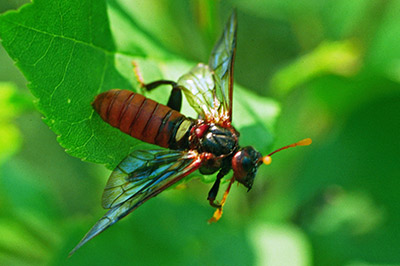 Steven Katovich, Bugwood.org
Description: 3/4 - 1 inch long. A black head and thorax with orange on the antennae, head, and legs with a blue black abdomen with a small white spot on the upper section of the abdomen (the female has four or five yellowish spots along the side of the abdomen). It has smoky colored wings.
Where/When: Associated primarily with willow and elm but can occasionally found on alder, basswood, birch, maple and poplar. Present from early spring to early summer.
More information on Elm sawfly
Did this tool help you identify the insect? Tell us.